It's that time of year again!
Cat owners like you love spoiling your pets every day of the year; but you know that the holidays are extra special, especially when everyone comes together and gives their loved ones presents!
Finding the purrfect holiday gift for your cat is as easy as following our list of Top 5 Holiday Toys!
1. Tower of Tracks | Under $12
For a gift that will paw-sitively amaze, Pestages' Tower of Tracks is an interactive cat toy that will keep your feline friend active. They'll try all day to swat the spinning, brightly-colored ball from the track. Whether you have just one or several cats, this is a toy every kitty can enjoy at once.
2. Beaver Refillable Catnip Toy | Under $7
This catnip toy from KONG will be your kitty's new favorite. With a price you can't beat, this toy comes with all the things you'll need to keep your kitty entertained. This is great for one cat, or a cat who likes to share with their siblings.
This three-way tunnel is perfect for cats who like to explore. It makes a fun crinkle sound and comes with a toy that your kitty can play with whether they're in the tube or not. You don't have to worry about your cat's nails going through this tunnel because it's made with ultra-strong, tear-resistant polyester. The best part of this gift is, if you have a dog, or multiple cats, every furry friend can play at once.
4. Catit Sense 2.0 Digger for Cats | Under $15
A great interactive toy for cats, this will keep them busy for hours. All you have to do is put some kibbles in the compartments and let your cat paw their day away. Because each tube simulates the action of natural pawing, this is a toy that will use your cats sense of smell, sight, taste, and touch.
5. Interactive Mouse and Cat Scratching Pad | Under $9
If your kitty just loves to chase mice this is the cats meow when it comes to interactive games. With a scratching pad on top and a fun game of "catch the mouse" within the toy, this is a clawsome gift for cats who are independent and like to play by themselves.
---
BONUS!
---
Don't let the purrfect gift break your bank. Here are two freebies that you can pull together with what you already have in your house: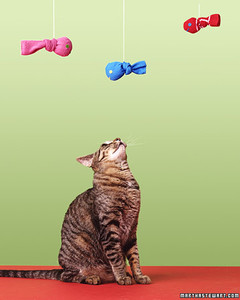 The Sock Fish | $0
Martha Stewart supplied this great and easy diy idea. All you need are some socks, catnip, and paper. You can make it look as fishy as you want with decorations.
Cardboard Box and Tubes | $0
Playtime doesn't have to come at a cost. This fun game-like toy for your feline is made with toilet paper or paper towel tubes and a tissue box! Just add some tasty treats and they'll be playing for hours.
Please check out Town Cats's Amazon Wish List and give every cat the best holiday!